Category Archives:
Event Flyers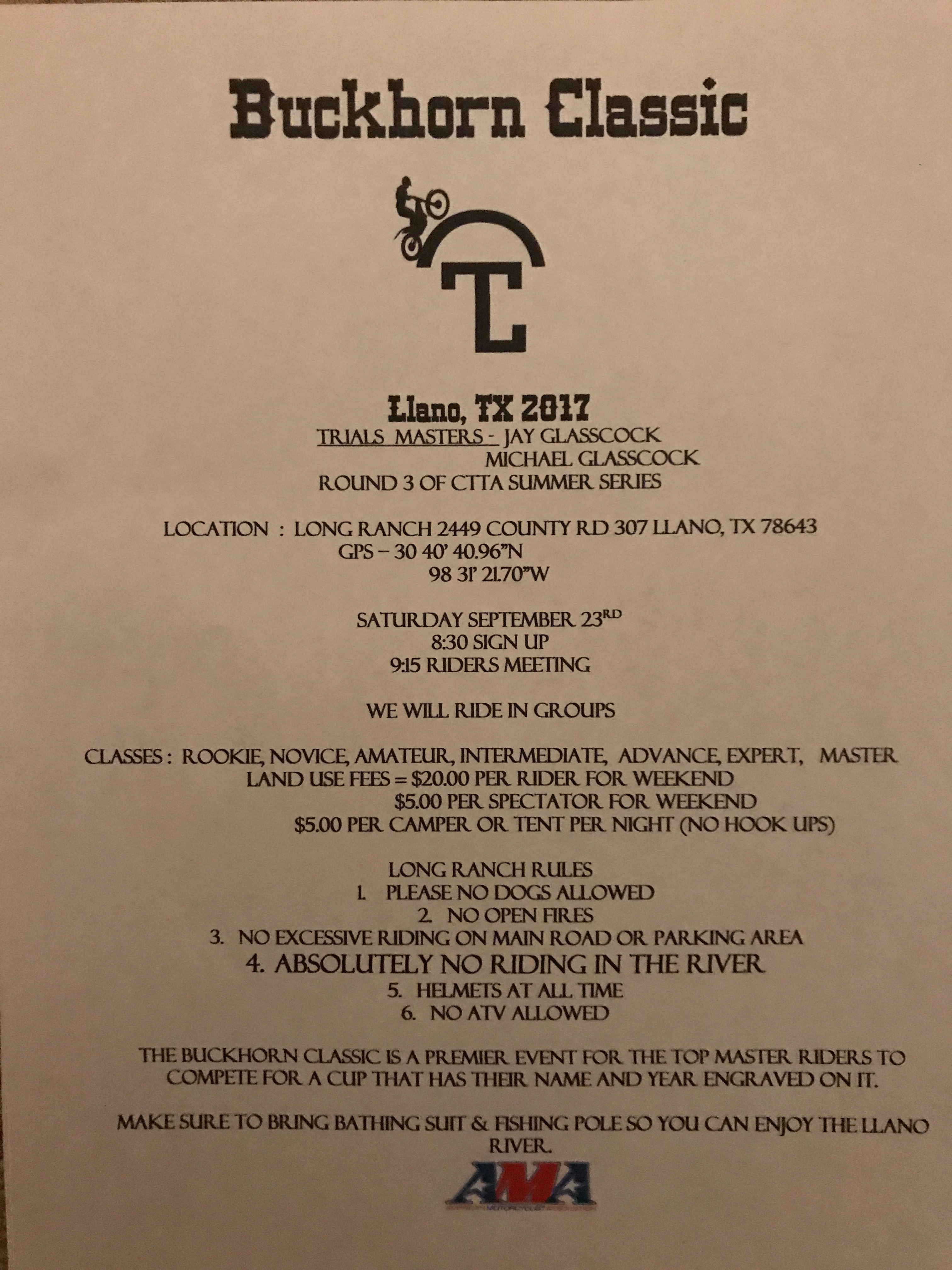 Posted by hubtrials on July 21, 2017
Comments Off

on Flyer! Round #2 CTTA Summer Series 8/13/2017 Kendalia, TX
The 2nd round of the 2017 CTTA Summer Series is coming up on Sunday, August 13.  Glen Roblin is trial mastering this event again this year at the GSL Ranch.  We are excited to get to ride this place again.  This event is an early start on Sunday morning to encourage folks to arrive Saturday and camp the night to best avoid the summer heat. See event flyer for more information. 
Ben Dalgleish
Post expires at 6:00pm on Wednesday December 31st, 1969
Ron Sallman and the CTTA are hosting PRO and Amateur MotoTrials events to benefit the Brent Lewis Bridges Foundation at Luckenbach on Saturday, May 20th! Many of the top US Pro Men and Women riders, including the current NATC US Mototrials points leader, will be competing in the PRO event!
Many, many tons of rocks have been brought into Luckenbach to enable a fantastic display of Trials skill by the PRO's and for your riding enjoyment! This should be an amazing show and it's all for a good cause too; the Brent Lewis Bridges Foundation charter is to bridge the gaps in Cancer Detection, Education and Nutrition.
The Brent Lewis Bridges Bash at Luckenbach is so more than a Trials event, it includes: Texas Hold'em Tournament (Friday evening), MotoTrials, Firehouse BBQ Cook-off by regional Public Service and Auxiliary Organizations, Classic Cars, Trucks, Street Rods, Silent Auction and Music!
Want more info?
– MotoTrials: Texas PRO/AM Flyer
– It's much more than a MotoTrials event: BLB Bash Poster
– For a good cause: Brent Lewis Bridges Foundation
Ladies and Gentlemen,
Here is the 2015 Texas State Series information letter. Please note that we will have one new class this year, Advanced Novice. This class will ride 50/50 harder Novice lines and softer Amateur lines. This class will be for male and female riders.
– Tom Batchelor